Yellowstone Country
Day 1:

Bozeman + Paradise Valley + Mammoth Hot Springs + Boulder River Backcountry 173 Miles

From Bozeman, head east on Interstate Highway 90 for 26 miles. In Livingston, pick up U.S. Highway 89 south to begin the breathtaking 113-mile Paradise Valley Scenic Loop along the Yellowstone River. Stop at Mallard's Rest Fishing Access Site (13 miles south of Livingston at mile marker 42) where you'll find the ultimate in Montana views. Once you make it to Gardiner, take US-89 back up north until you reach State Highway 540, which puts you on the opposite side of the Yellowstone for most of the rest of the ride back to Livingston. Then you'll pick up State Highway 298 east for 67 miles to Big Timber along the Boulder River Backcountry Drive. If you're up for it, stop for a soak at Chico Hot Springs in Pray for a soak and a bite to eat. Overnight in Big Timber. Optional: When you reach Gardiner on the Paradise Valley Scenic Loop, consider driving 5.8 miles farther south to Mammoth Hot Springs (inside Yellowstone National Park) to see the famous steaming hot springs terraces. It's well worth it.

For more information:

Yellowstone Country
Day 2:

Beartooth Front Scenic Drive + Absarokee Loop + Red Lodge 128 Miles

From Big Timber, take I-90 east to Columbus. On the northern front of the Beartooth Mountains, travel State Highway 78 south for 46 miles from Columbus to Red Lodge. You'll reach Absarokee two thirds of the way through your ride, where you can pick up the 45-mile Absarokee Loop (MT-420/Stillwater River Road to MT-419/Nye Road), which is totally worth the side trip. Fuel up at the Fishtail General Store and make your way back to MT-78 south. Within about 15 minutes you'll be in Roscoe; grab a burger at the local bar. Twenty miles later you'll arrive in Red Lodge, an idyllic mountain town nestled snuggly in the Beartooth Mountains where 12,000-foot peaks are a dime a dozen. You'll find a local brewery, a cider mill, and multiple options for food and lodging.

For more information:

Yellowstone Country
Day 3:

Beartooth Highway (seasonal): Red Lodge + Cooke City-Silver Gate 68 Miles

Red Lodge is famous for marking the starting point of what's been called the most beautiful drive in the country—the Beartooth Highway. This National Scenic Byways All-American Road (U.S. Highway 212) boasts spellbinding switchbacks through the Absaroka and Beartooth mountain ranges. You'll find numerous scenic pull-outs and views of 20 peaks towering over 12,000 feet. Pull over and explore alpine plateaus, glacial lakes, lush forested valleys and pristine waterfalls, and climb Beartooth Pass at 10,947 feet—which is the highest drivable point in the state. You'll reach the "Top of the World" 38 miles from Red Lodge, where you can stop to take a breather and fuel up. Just before the park you'll reach Cooke City (make sure to visit the General Store) and Silver Gate (don't miss the Stop the Car Trading Post). Plan on at least three hours of drive time. Spend the night in Cooke City and don't miss the local bakery the next morning. Bearclaw Bakery and Coffee will ensure a great start to your next day.

For more information:

Yellowstone Country
Day 4:

Yellowstone National Park: Cooke City + West Yellowstone 95 Miles

This is your day to explore America's first national park. The fascinating landscape of geothermal features like geysers, hot springs and mud pots makes this a bucket list ride for many motorcyclists. About 5 miles from Cooke City marks the northeast entrance to Yellowstone National Park on US-212. Less than 3 miles into the park you'll cross the border into Wyoming. It's 33 miles from Cooke City to Tower Junction, and halfway through you'll ride through the Lamar Buffalo Ranch and the wildlife-filled Lamar Valley. At Tower Junction, visit the Roosevelt Lodge before heading south on Grand Loop Road. You'll pass the Calcite Springs Overlook and Tower Falls before arriving in Canyon Village to witness Yellowstone's Grand Canyon (19 miles from Tower Junction). 13 miles later, at the junction of Grand Loop Road and US-89, you'll reach the unique, rainbow-colored Norris Geyser Basin. Continuing for 30 more miles on US-89 south and U.S. Highway 191 north, you'll end the day in West Yellowstone. This picturesque all-American gateway community is bustling with lodging (from ranches and lodges to hotels and motels) and dining options from gourmet to laid-back.

For more information:

Yellowstone Country
Day 5:

TWO OPTIONS: GALLATIN CANYON (95 MILES) OR MADISON VALLEY (124 MILES)

From West Yellowstone it's time to make your way back to Bozeman. You've got two options: Get back on US-191 north and head to Big Sky (51 miles) where you'll pick up the stunning Gallatin Canyon Drive from Big Sky (with scenic views of Lone Peak) to Bozeman (44 Miles). This narrow canyon follows the Gallatin River where many of the fishing scenes from "A River Runs Through It" were filmed. Your other option is to pass through the stunning Madison Valley from West Yellowstone to Bozeman (124 miles). This route takes you up U.S. Highway 287 north though Quake and Hebgen lakes up to Norris (88 miles) and then on U.S. Highway 84 east for 36 miles to Bozeman, along the beautiful snowcapped Tobacco Root Mountains (after a soak at Norris Hot Springs). Both of these routes back to Bozeman are spectacular, and when you arrive in Bozeman you certainly have the option to keep going and make a 219-mile loop out of these two routes (which will end your trip in West Yellowstone).

For more information:

This Google map will automatically reroute when the Beartooth Highway is closed.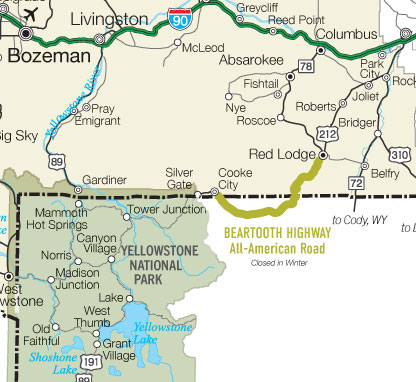 This highlighted route shows the Beartooth Highway portion of the itinerary when the road is open.