Glacier Country
Day 1:

Browning/St. Mary + Glacier National Park/Going-to-the-Sun Road + Columbia Falls 67 Miles

Tour the Crown of the Continent by way of one of the most scenic rides in America. Pick up the Going-to-the-Sun Road, a National Historic Landmark and engineering marvel, in St. Mary and ride 50 miles of stunning scenery. Please note that vehicle reservations are required for the Going-to-the-Sun Road from May to September.) Crest the Continental Divide at Logan Pass where you'll often spot mountain goats, and pass the Weeping Wall, multiple cascading waterfalls, Avalanche Creek + Trail of the Cedars, McDonald Falls + Lake McDonald and the Apgar Visitor Center + West Glacier. Plan on at least three hours to cross the park. From West Glacier, make your way to Columbia Falls via U.S. Highway 2 west. Right outside the park, Columbia Falls offers amazing views plus local beer and cozy lodging. See what's on tap at Backslope Brewing, and overnight at Reclusive Moose Cabins, North Forty Resort or Cedar Creek Lodge.

For more information:

Find more information about Going-to-the-Sun Road vehicle reservations here.

Glacier Country
Day 2:

Flathead Lake Loop + Bigfork 102 Miles

From Columbia Falls, make your way down the west side of Flathead Lake—the largest freshwater lake west of the Mississippi—on U.S. Highway 93 to Polson, where you can check out 70 vintage motorcycles at the Miracle of America Museum and take a break at the local brewery. Pick up MT-35, which winds north up the east side of the lake to Bigfork, Western Montana's quintessential storybook village, where lunch options include The Raven's waterfront deck. Spend the day riding the entirety of the lake, exploring points along way. There are numerous recreation and fishing access sites along the lake's 185 miles of shoreline and multiple state park units within Flathead Lake State Park including Big Arm State Park, West Shore State Park, Wayfarers State Park and the lake's largest island, Wild Horse Island State Park—a day-use state park only accessible by boat and home to wild horses (hence the name), bighorn sheep, coyotes and deer. From mid to late summer fruit stands dot the roadside, offering Montana's famous Flathead cherries. Overnight options in Bigfork include Islander Inn and Mountain Lake Lodge. Stop by Whistling Andy Distillery for whiskey made from glacial waters or Flathead Lake Brewing Co. for locally crafted beer and a noteworthy food menu.

For more information:

Glacier Country
Day 3:

Seeley-Swan Scenic Drive + Blackfoot River Route + Missoula 126 Miles

From Bigfork, take State Highway 209 west to State Highway 83 south to pick up the Seeley-Swan Scenic Drive, passing through Swan Lake and Seeley Lake. The Seeley-Swan is a premier Glacier Country recreation destination and the mountainous and lush forested landscape is breathtaking. In the charming little resort town of Seeley Lake you'll find great restaurants and locally owned shops. At the junction of MT-83 and State Highway 200, head west toward Missoula on the Blackfoot River Route. Made famous by Norman Maclean's "A River Runs Through It," the beautiful Blackfoot River runs along this scenic corridor offering plenty of picturesque vistas. This is one of the most popular stretches of the Blackfoot to fish and float. Optional side trip: Head east on MT-200 first for Old West charm in Ovando, and then backtrack west to Missoula, adding an additional 27 miles to your trip. Missoula is Montana's cultural hub located at the convergence of three rivers and seven wilderness areas. Lodging and dining options abound here, and the entertainment and nightlife are some of Montana's finest. Find local vibes and good beer at KettleHouse Brewing Company in Bonner (just east of Missoula), and plenty to eat at the Mustard Seed in Missoula. Overnight at the C'mon Inn or Airport Wingate by Wyndham, or choose from multiple hotels. Area attractions include Historical Museum at Fort Missoula, Missoula Smokejumper Visitor Center and the Rocky Mountain Elk Foundation.

For more information:

Glacier Country
Day 4:

Bitterroot Valley 81 Miles

Wake up in Missoula and set out south on US-93 for a day in the Bitterroot Valley. Flanked by the rolling Sapphire Mountains and the jagged Bitterroot Range, this scenic valley boasts western charm along the banks of the winding Bitterroot River, where fishing access sites abound. You'll find multiple breweries, cideries, coffeehouses, dining and local shopping in the vibrant communities that line the valley. Head as far down the valley as you'd like, and on your return trip back to Missoula, pick up the Eastside Highway (State Highway 269) in Hamilton before connecting back up with US-93 in Stevensville. Taking the Eastside Highway north adds a little bit of a backroad adventure (it's fully paved, though) to your day. At this point, you can either head back for a second overnight in Missoula or—if you're up for a bit of a windy 30-mile ride on State Highway 12—spend the night in Lolo at Lolo Hot Springs featuring a full bar, restaurant and casino. Bitterroot attractions include the Lee Metcalf National Wildlife Refuge, Historic St. Mary's Mission, the Daly Mansion—original home of copper king Marcus Daly—Travelers' Rest State Park and Fort Owen State Park.

For more information:

Glacier Country
Day 5:

St. Regis-Paradise Scenic Byway + Tour 200 + Lake Koocanusa Scenic Byway + Eureka 162 — 279 Miles

Begin the last—and longest in terms of mileage—day by taking Western Montana's I-90 corridor 71 miles from Missoula to the must-stop St. Regis Travel Center (don't miss the trout aquarium). The road to Paradise on State Highway 135 is a short and scenic 24 miles and passes by Quinn's Hot Springs Resort. From Paradise, take MT-200 67 miles up through the charming communities of Thompson Falls (visit the dam), Trout Creek (famous for huckleberries) and Noxon (ride over the historic Noxon Bridge). Grab some homestyle cooking for lunch at Minnie's Montana Café in Thompson Falls. Optional: If you hit the road early and want to end your trip with a long day on the bike, keep going. From Noxon, take Bull Lake Road (State Highway 56/the first leg of Montana's Highway to Heaven Motorcycle Loop) 36 miles to the US-2 junction, just south of Troy. Just after you get on US-2, make sure to stop at the Kootenai Falls Suspension Bridge, and then follow US-2 12 miles to Libby, where you'll pick up the Lake Koocanusa Scenic Byway—State Highway 37—for 69 miles. Top off your trip with some rest and relaxation in Eureka. The quaint little town in the lush Tobacco Valley offers a charming main street and small-town hospitality. Visit the Tobacco Valley Historical Village as well as the local brewery. Overnight options include Indian Springs Ranch and The Wilderness Club.

For more information:

This Google map will automatically reroute when the Going-to-the-Sun Road is closed.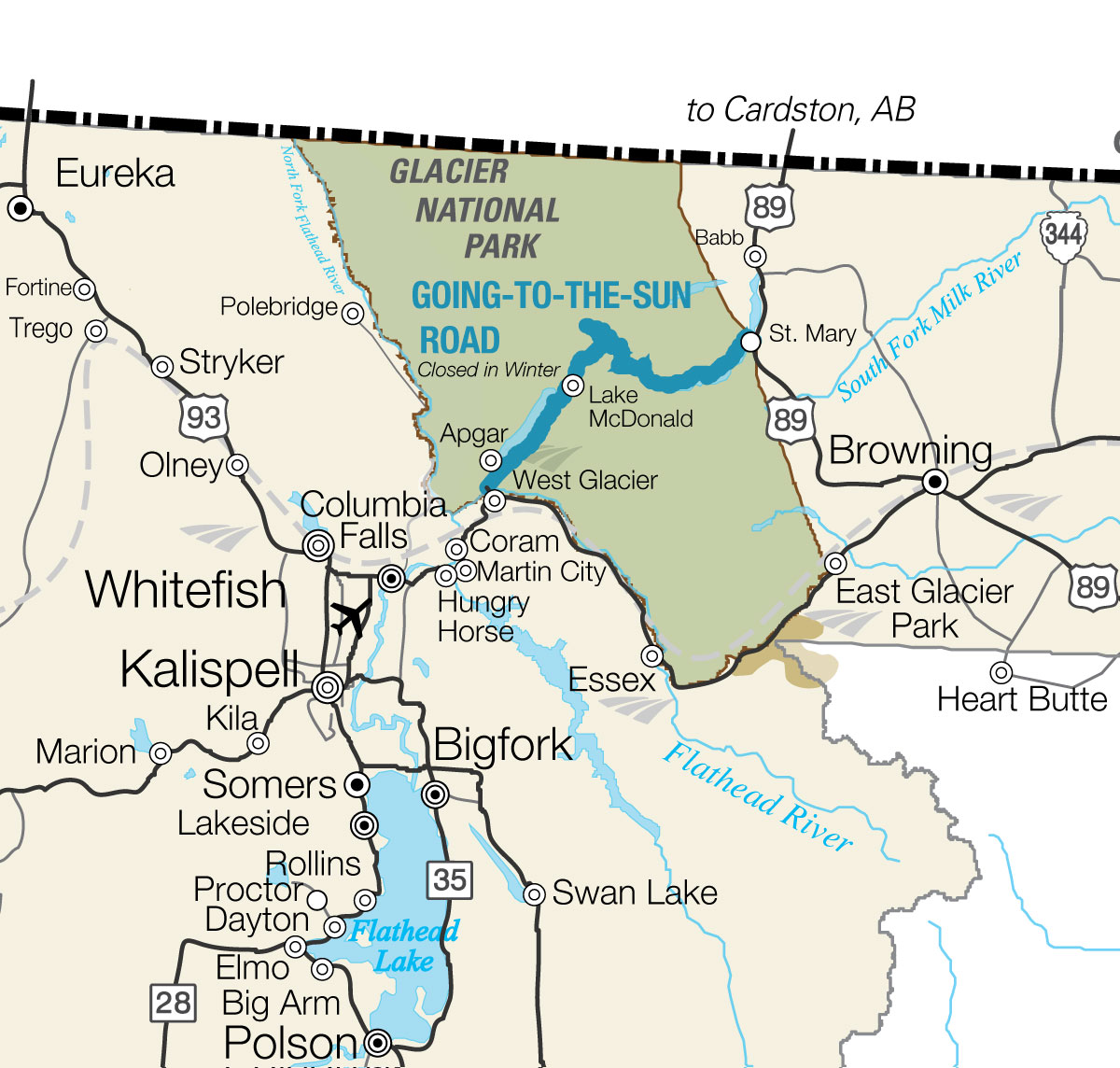 This highlighted route shows the Going-to-the-Sun Road portion of the itinerary when the road is open.